Gradle and Proxy Authentication in Android Studio
Update: This is obsolete as Android Studio is going to eliminate JVM arguments for gradle. See this post for a more future-proof approach.
The other day I did an exercise to install Android Studio ("AS" henceforth) (0.8.4 at the moment of writing) and create a project with gradle in an environment with an authenticated proxy. It didn't work out of the box, of course. Worse, it generated an exception (internal error). I found two solutions to make it work:
Via configuration file
JVM variables
Configuration file
When you create a project in AS, it'll have a gradle.properties file in the root directory. This file contains configuration information for gradle (d'oh!).
By default, the file is empty (or, to be more accurate, it has a bunch of information in comments). All you need to do is to add the relevant data:
# /gradle.properties

systemProp.http.proxyHost=www.somehost.org
systemProp.http.proxyPort=8080
systemProp.http.proxyUser=userid
systemProp.http.proxyPassword=password
systemProp.http.nonProxyHosts=*.nonproxyrepos.com|localhost

The entries are self-explanatory.
However, this apparently does not work in some instances. If that's the case, just follow the accepted answer :)
JVM Variables
Gradle accepts VM input parameters. The Gradle section of preferences in AS allows for such parameters to be passed: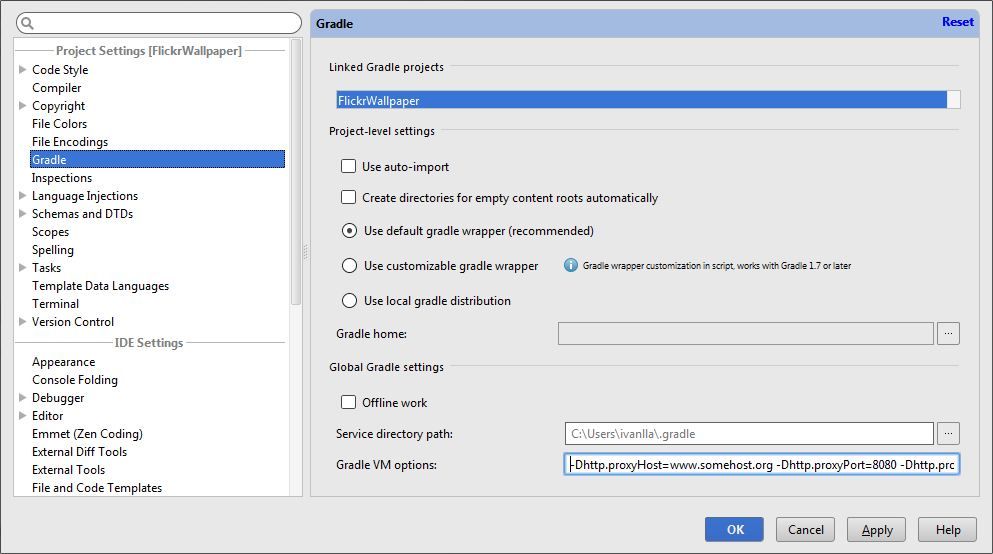 They replicate the same as the ones in the above configuration approach:
-Dhttp.proxyHost=www.somehost.org \
-Dhttp.proxyPort=8080 \
-Dhttp.proxyUser=userid \
-Dhttp.proxyPassword=password

This "just works" :)
Conclusion
Both variants work for me. In the end, I've chosen the JVM variables approach because:
gradle.properties ends up committed in a repository and it would contain my user's credentials for the proxy. This is bad. Very, very bad!
Normally I don't need proxy authentication. Also, other members would have their own settings (e.g. credentials). So, the only way I could see this file being used would be to be committed (and checked out only once) and added to .gitignore so subsequent commits don't alter it.
It violates Rule III of the 12 factor app
HTH,