House log - Select a Kitchen Extractor
We've been doing the kitchen fitting in the past weeks with a Belgian company. After selecting the design, we've run into the issue of selecting the evacuation system. Here are the steps:
Internal vs external
There's a fashion now to install internal extractors, with active filters to remove the odours/greases. They are better from the PEB perspective (there's no hole outside), but also more expensive because the filters need to be replaced every 6 months-ish.
The external ones seem to be easier to maintain (just place the filter in the washing machine), but you get a knock to the PEB energy efficiency evaluation.
I've asked around. The kitchen vendor is keen to push for the recycling variant. A couple of friends have the external exhaust systems and they are quite happy with them.
Our decision: We picked an external system, because friends
Criteria for selecting a hood
First criterion is the type of hood. We have an island where the cooker is placed on, so we need an island hood.
Second criterion is efficiency. This has a number of aspects like:
Power consumption
Noise
Air moved
Grease efficiency
Ease of maintenance
There are others like fluid dynamics (most numeric factors you can get from the energy sheets).
Third criterion is the cost. External exhaust hoods are quite expensive (the hood itself, the engine, piping). We have found there's a balancing act between all other factors and the cost.
A fourth criterion for us was the popularity. This is not an easy thing to evaluate because the offer is huge and reviews are difficult to find.
Selection
After a lot of discussions with the kitchen builder, we came down to choose between a Gaggenau and a Novy. This choice comes from several constraints:
We wanted something efficient, not just decorative
We need a hood with a width of 120cm because we have a large-ish induction plate and a teppanyaki
We wanted something more classic (not in the ceiling) because of aesthetics (we have a visible beam just on top of the island) and efficiency (the ceiling ones would need more power to absorb stuff and be noisier too)
They look like this:
| | Image |
| --- | --- |
| Novy | |
| Gaggenau | |
Noise vs volume of air
Both products are towards the top-of-the-range. I did some simple graphing based on the data available online: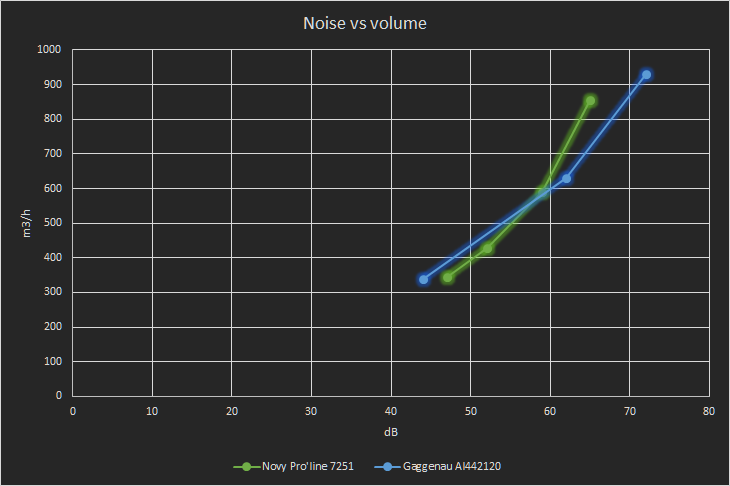 As you can see, both choices have similar parameters. Novy is a bit more detailed than Gaggenau. Novy seems a bit more efficient at higher speeds than Gaggenau.
Efficiency
As noted above, both are about the same in most aspects:
| | Novy | Gaggenau |
| --- | --- | --- |
| Energy class | B | A |
| Grease efficiency | E | B |
| Light | B | B |
| Consumption kWh/annum | 98.3 | 49.5 |
Winner is Gaggenau, by a wide margin. Now, the test site says that only Siemens has accurate numbers compared to independent testers. I could not find tests for Gaggenau at all.
Price
At the moment of writing this, Novy runs at approx 2000 Euro, while Gaggenau is about 4000 Eur. Winner: Novy.
Conclusion
We have decided on the Novy one, because the builders are more familiar with it and the price is almost half of the one of Gaggenau.
Resources
HTH,