Fix Crazy/Jumping Cursor on a MacBook (Pro)
A couple of days ago, my baby managed to take a jab at my laptop (several actually), and hit the both keyboard and the trackpad. I don't know how, but this managed to get the cursor to jump all over the screen, some clicks triggered, some virtual screens swapped... Wonderful!
TL;DR: Plug in a mouse, disable the trackpad when a mouse is plugged in, play with the mouse for awhile, remove the mouse and uncheck the option. Voila!
I thought it's just a fluke and restarting would fix the problem. Well... it didn't, so I went through the whole iteration of getting mad:
Forums - forums say everything from throw away your laptop and get a new one (good excuse to update my 2009 MBP by the way!), to reset PRAM to scavenge ebay for a replacement
Google - One solution was to unscrew a magic screw - So I went and dismantled my MBP, cleaned it up and unscrewed the screw. No change.
Reset the trackpad somehow -- Woo-hoo!
My Solution
Go to System Preferences > Accesibility > Mouse & Trackpad
Check "Ignore built-in trackpad [...]"
Play around for a bit with your mouse, say 15 seconds
Come back to the preferences tab and uncheck that box.
The dialog should look something like this: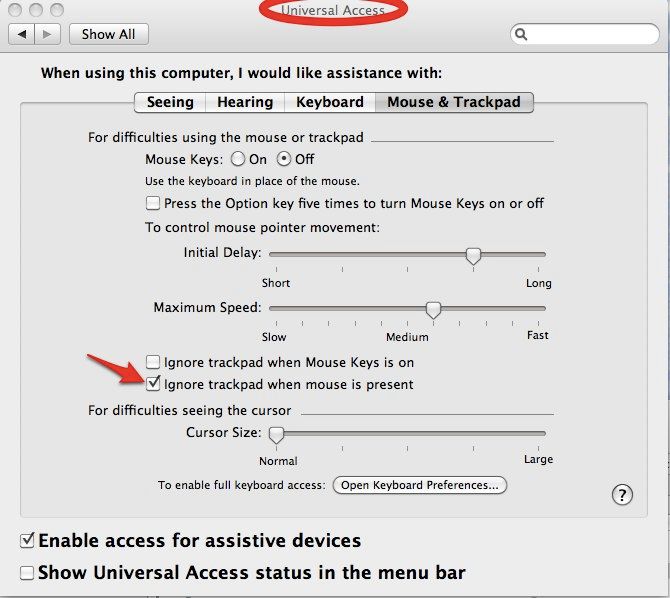 So... the computer got confused/decalibrated for a while and the only way to reset is to disable/re-enable the trackpad. The only way to do it is to use an external device :)